01. Lehrbeauftragte
Seit einigen Jahren bin ich Lehrbeauftragte an der Otto-Friedrich-Universität Bamberg.
02. Forschungsschwerpunkte
Darstellung von Behinderung und psychischer Krankheit im Film. Disability Studies. Gender. Inklusion als Begegnung auf Augenhöhe.
---
[S]tereotypical (filmic) representations of disability need to be analysed and criticised, but […] should neither be eliminated nor forbidden.Anders, Petra (2016) 'More than the "Other"? On Four Tendencies Regarding the Representation of Disability in Contemporary German Film (2005 – 2010)', in Benjamin Fraser (ed.) Cultures of Representation. Disability in World Cinema Contexts. New York: Columbia University Press, 155
I can tell from my teaching experiences that combining disability and film studies opens new vistas when discussing the cinematic representation of disability: film studies students can discuss disability and students of disability – as well as queer theory, I would like to add – can find new ways of discussing these subjects. Film students told me that they could ask questions or get information on disability in my seminar that they did not know before. They learned, for example, that there are more models of disability than the medical model and why activisits, academics or other people with disabilities are passionate about promoting them.Anders, Petra: Disability Studies and Film Studies: Interdisciplinary Approaches to Writing, Presenting and Teaching about Disability, 4th biennial CCDS conference "Disability and Disciplines: The International Conference on Educational, Cultural, and Disability Studies" at the Centre for Culture and Disability Studies, Liverpool Hope University, July 2017
Tanz [kann] nicht nur dann inklusiv gestaltet werden […], wenn nichtbehinderte Tanzprofis mit behinderten Laien zusammenarbeiten, sondern auch, wenn Tanzprofis mit Behinderung ihren Beitrag zu Tanz mit nichtbehinderten Menschen leisten.Petra Anders: Ohad Naharins Gaga Movement Language als Zugang zu inklusivem Tanz, Symposium der Gesellschaft für Tanzforschung zum Thema "Tanz- Diversität-Inklusion", TU Dortmund, Oktober 2017
[The films MORGAN and THE WAY HE LOOKS] are useful for understanding histories of sexuality and disability because the filmmakers refrain from employing old stereotypes of characters with disabilities as either evil and sexually abnormal or as unable to enjoy sex and physical intimacy at all. Akers's and Ribeiro's films successfully counter many other films' 'othering' of people with disabilities and/or non-heteronormative sexual identities.Anders, Petra (2018) 'Screening Gay Characters with Disabilities', in: NOTCHES: (re)marks on the history of sexuality. Posted on February 27, 2018.
Meines Erachtens fußen zahlreiche mediale Zuschreibungen, wie ein ein Mensch mit Behinderung ist und was er tut, auf stereotyper Überfrachtung. Das gilt sowohl für Rollen mit negativen Einflüssen als auch für Rollen mit (scheinbar) positiven Einflüssen. Anders, Petra -A. (2018) Mediale Zuschreibungen. Über die Rolle von Behinderung im Spielfilm. In: Juliane Gerland, Susanne Keuchel und Irmgard Merkt (Hg.): Kunst, Kultur und Inklusion. Menschen mit Behinderung in Presse, Film und Fernsehen: Darstellung und Berichterstattung. Regensburg 2018. ConBrio Verlagsgesellschaft (Schriftenreihe Netzwerk Kultur und Inklusion, 3), S. 62
Durch die Verbindung von Disability und Queerness entsteht in den Filmen MORGAN und GOD'S OWN COUNTRY neuer Raum. Er bietet die Möglichkeit, Andersartigkeit (durch Behinderung) nicht nur als Abweichung von der Norm, sondern als Ausdruck von Diversität zu diskutieren. Petra Anders: Queer Studies meets Disability Studies: Zur Darstellung von Queerness und Disability in ausgewählten Spielfilmen, "Aktuelle Perspektiven der Queer Studies: Ansätze, Theorien und Lektüren in Film und Literatur", Seminar von Dr. Corina Erk und Dr. Sebastian Zilles, Otto-Friedrich-Universität Bamberg, Januar 2019 
Veröffentlichungen (Auswahl):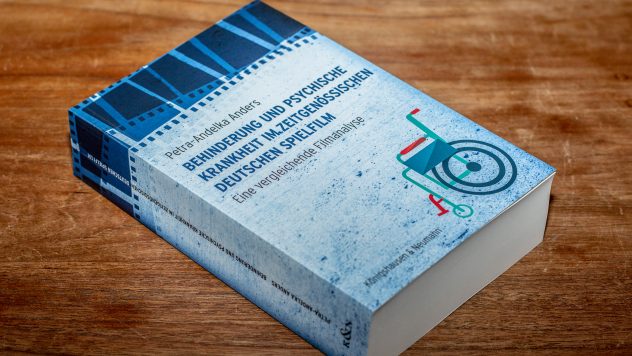 Behinderung und psychische Krankheit im zeitgenössischen deutschen Spielfilm. Eine vergleichende Filmanalyse.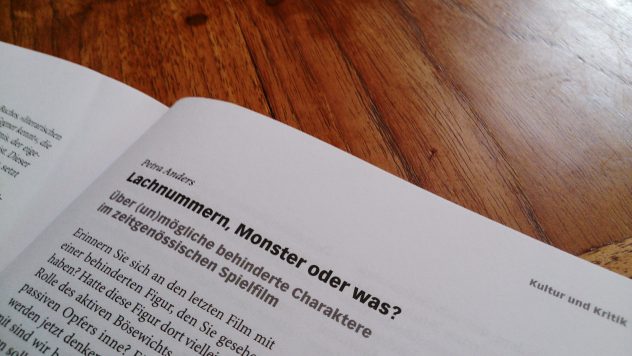 Lachnummern, Monster oder was? Über (un)mögliche behinderte Charaktere im zeitgenössischen Spielfilm.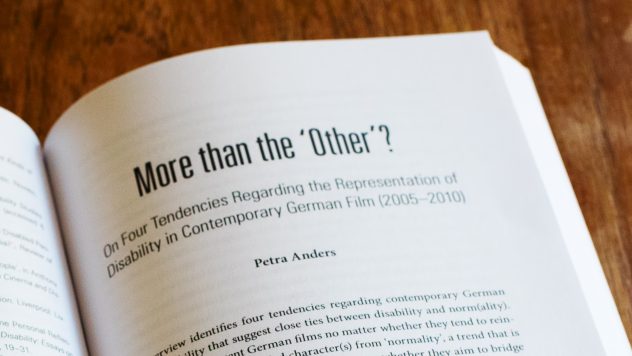 More than the 'Other'? On Four Tendencies Regarding the Representation of Disability in Contemporary German Films (2005-2010)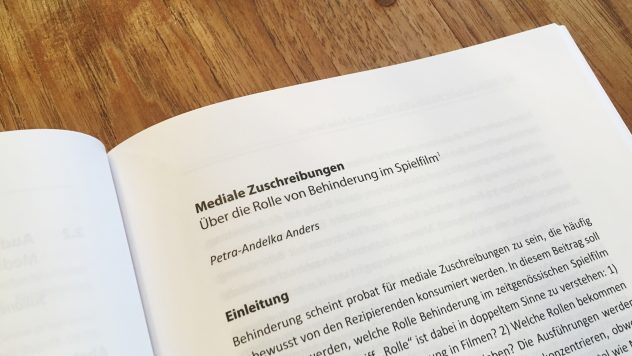 Mediale Zuschreibungen. Über die Rolle von Behinderung im Spielfilm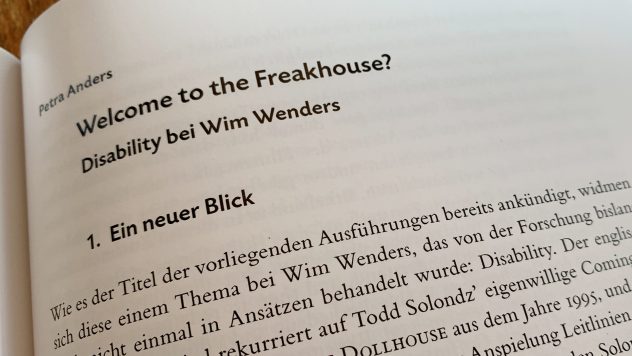 Welcome to the Freakhouse? Disability bei Wim Wenders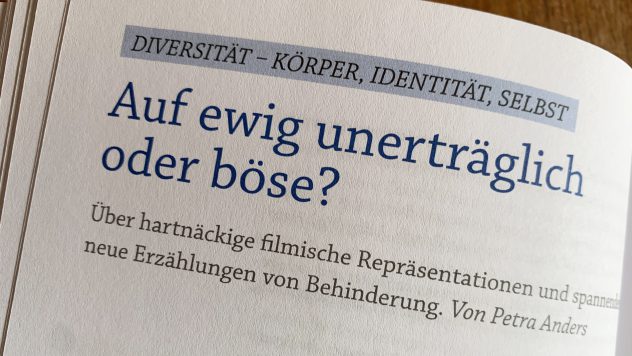 Auf ewig unerträglich oder böse?